AgCc DES.ARCH.IND.TRADE.CO.LTD.LOL for International Architecture Biennial of Antalya (IABA).
Conceptual framework of the exhibition was 'Thinking about the future'. Instead of focusing on the usual suspects such as disasters, urban resilience, collective design etc. this time we tried to conceptualize the recent and highly encountered job opportunities and working conditions of architects and designers. We have tried to exaggerate and caricaturize the condition.




Thinking about future in scope of architecture and design, does not always mean to speculate about the theoretical, academic or professional states these disciplines will evolve to or shapes of their end products, as it is done time and again. Especially for those who are currently in the education system or newly-graduated architects/designers starting their professional career, thinking about future means to think about positions/environments they will find themselves in, circumstances they will fight in for existence with sagacity, and necessities and expectations.




Mim.Dek.Tas.San.Tic.Ltd.Şti.İnş.Cnm, III. IABA Antalya Mimarlık Bienalinde sergilenmiştir.

Mimarlık ve tasarımda geleceği düşünmek her zaman bu disiplinlerin kuramsal, akademik ya da profesyonel anlamda alacağı hali ya da sonuç ürünlerin alacağı biçimleri tahayyül etmek anlamına gelmiyor. Özellikle, halen mimarlık ve tasarım eğitimi almakta olan ya da profesyonel hayata yeni başlamış bireyler için geleceği düşünmek, akademinin kendi içindeki esnek ve görece korunaklı evreninden çıktıklarında, yani yakın gelecekte kendilerini bulacakları konumu, dirayetle varolma mücadelesi verecekleri koşulları, kendilerinden beklenecek ve istenecek gereklilikleri düşünmek demek. Daha genç daha tecrübeli, daha hızlı daha kaliteli, daha teknik daha teorik, daha büyük daha karlı olmak gerektiğinde, koşullar ne aday ne de işveren için daha kolay değil. Durum hem akut, hem de kronik. Bu vuzuhsuzluk hali bir tür süper kahraman/kalender meşrep arayışıyla, belki de en çok kariyer ilanlarında ayyuka çıkıyor. Öyle ki, ihtiyaç ve yeterliliklerin çeşitliliği gerçekçi taleplerin ötesine geçebiliyor ya da talepler ve vaatler birbiri ile örtüşmeyebiliyor. Mim.Dek.Tas.San.Tic.Ltd.Şti.İnş.Cnm adlı iş, hem adaylar hem de işverenler için durumu hicveden ilanlardan oluşuyor. Bienal boyunca ilgili referans numarasıyla iletişime geçecek katılımcılardan başvuru ve yeni ilanlar bekleniyor.

AgCc – Cansu Cürgen, Avşar Gürpınar
2015, İstanbul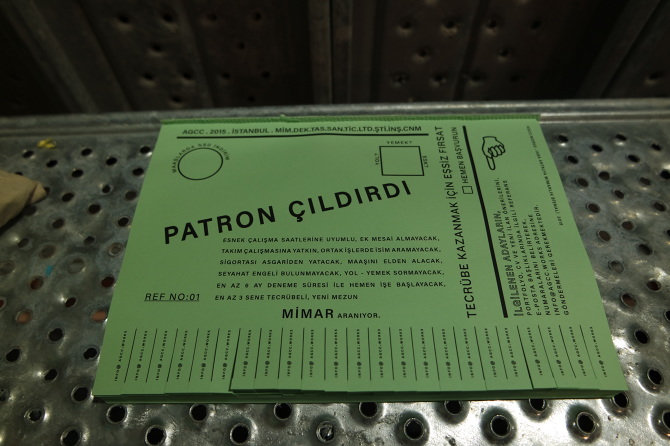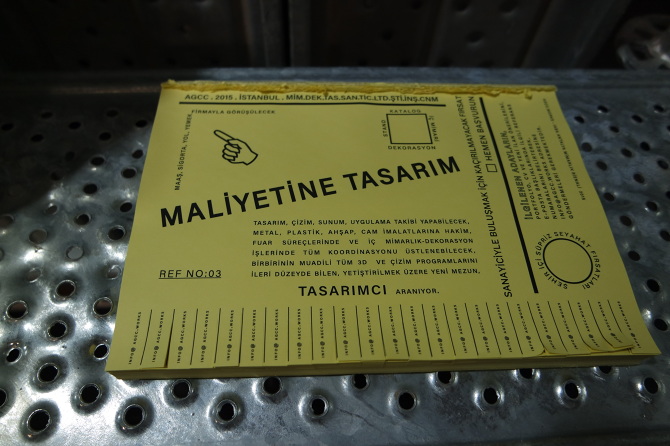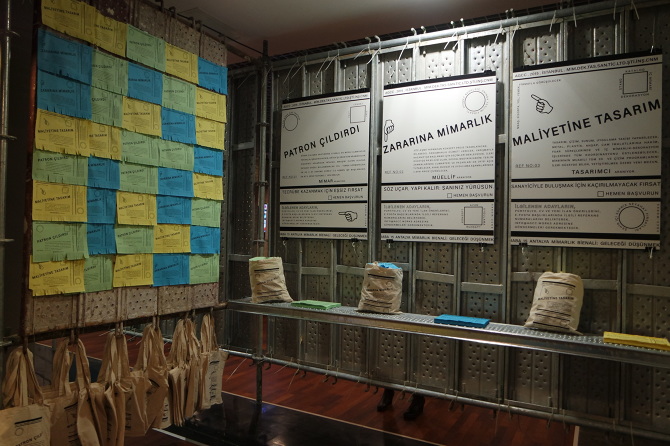 {/slideshow}